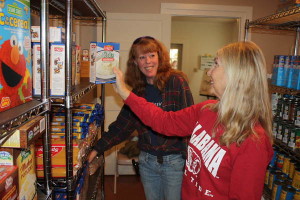 At Epiphany, feeding the hungry isn't just a dream or a metaphor; it's the focus of our ministry. On the third Saturday of each month from 9:00 am until 11:00 am, Epiphany gives away beans and rice and much more to members of the community who stop by the church. There is no service, no sermon, and no testimony.  Just one human helping another human to deal with hunger.
We buy most of the food we give away from the Montgomery Area Food Bank. We pay a deeply discounted price for everything we buy on the condition that we give it all away without conditions. Church members and interested members of the community donate the cash we use to buy food. The students and other members of St Dunstan's in Auburn provide cash help each month and lots of food in November and December, and the Veterans of Foreign Wars in Tallassee recently donated food and cash. Thank you, friends!
Volunteers gather on Thursday before each monthly distribution date to purchase and organize the food and sometimes toiletries. We invite any member of the community who needs food to come by the church during the distribution hours, and we invite anyone who wishes to support this vital ministry to contribute or to volunteer to assemble food and help give it away on Saturday mornings. In this photo, Ramona and Amanda are straightening pasta and cereal on the shelves getting them ready for Saturday morning.
On average, we serve about twice as many households as our average worship attendance. On a typical Beans & Rice distribution day, we give away a little less than a ton of food. Are we becoming overwhelmed? Frankly, yes, a little. For a small congregation like Epiphany, Beans & Rice is a huge undertaking!
From time to time, we share fun stories about the wonderful folks who stop by to visit with us on Beans & Rice day. One kind man drove up for a bag and asked skeptically, "What do I have to do?" The church member distributing bags said "Hold out your hand," and he exclaimed "Oh thank God." He gave us a wave and left with his treasures.
One middle-aged couple took a bag of food and toiletries and called the church about 15 minutes later. The wife told us that they had no money and were wondering how they could get a roll of toilet paper. "When we opened that bag and saw that roll of toilet paper in it," the wife told us, "we knew there is a God after all."
A Latino man drove up one Saturday for a bag of food and lifted out a can of English peas with a questioning look on his face. "What this?" was his question in broken English. The church member earnestly and haltingly – in broken Spanish – tried to explain that English peas are green, already cooked, and can be eaten unheated or warmed up first. The man laughed and said in perfect English "I's just playing with you."
Most of the items we give away for Beans & Rice Ministry we buy in bulk, without paying sales tax. We can ALWAYS use cash!
We record each month's totals of households served and pounds of food given away.