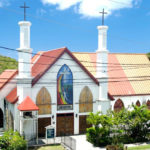 In the wake of Hurricane Irma and now Hurricane Maria, our vestry decided Sunday to reach out to the Episcopal church in the Virgin Islands, our sister diocese, to see if we could provide specific and localized assistance to one particular parish. In conversations with our own Alabama Diocese, we've identified one church, St Ursula's Episcopal Church, St John's US VI (US Virgin Islands). We found this picture of the church online.
Our own Hugh Thompson, who is coordinating our relationship with St Ursula's, says this: "We are looking forward to supporting [St Ursula's] in this time of need. However, the pressing need now is prayers for the safety of the parishioners and the church as they face Hurricane Maria, that is projected to be a direct hit on the Virgin islands."
Judy Quick of the Alabama Diocese has sent this message to Bishop Ambrose Gumb and to a key lay person at St Ursula's, whose first name is Alecia:
 Dear Bishop Gumbs and Alecia,
Two parishes in Alabama have expressed a desire to partner with St. Ursula's on St. John's as you walk  through your rebuilding and recovery after Hurricane Irma:  The Church of the Epiphany in Tallassee and St.  Dunstan's in Auburn.   The priest/rector at both parishes is the Reverend 
Wells
Warren
.   …
It's too soon to know for sure what kind of help St Ursula's will need, but we expect the relationship to be one that lasts for some time, perhaps years, as we work to reach out in love to this fellowship of believers.
This afternoon (Wednesday), Hugh posted this update:
This is the current status of the damage to St. John Island and St Ursula church as I know it.
1. Thanks for your prayers for the safety of the people on St John. Our point of contact, Alecia Wells, said that she was not aware of any significant injuries to the members of the parish or to individuals on the island. Obviously there is very limited communications at this time and I will update the status as additional information becomes available.
2. There is a total loss of electrical power on the Island. This power outage is expected to last at least until Thanksgiving or possibly until Christmas before it is fully restored. This is a major issue for the health and safety of the individuals who are currently living there; and will clearly hamper the repair and recovery efforts.
3. There is also a total loss of the water supply. Duration is not fully known, but expected to be similar to the loss of electrical power. Again, this is a significant health and safety issue.
4. St Ursula's roof was damaged by hurricane Irma. The additional damage from Maria is not known at this time, but it is anticipated to more extensive due to the degraded roofing before Maria hit. Alecia is trying to contact the sexton to get a better assessment of the damage to the church.
5. I continue to stay in touch with both Rev Quick and Alecia Wells. Right now, the plans for our financial support to St Ursula will be through the Alabama Diocese and I will coordinate with Rev Quick to ensure we have the proper procedure on place.
Your prayers for the safety of those remaining on St John and for the restoration of the damaged utilities are needed.
Peace