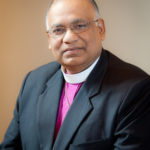 Join us on Sunday, June 5 as we welcome The Rt Rev Santosh Marray, Assistant Bishop of the Alabama Diocese of the Episcopal Church. Bishop Santosh will have an informal conversation with church members in the nave beginning at 9:30 am and will celebrate the Holy Eucharist at 10:30 am. The worship service will include time for the Sacrament of Confirmation, welcoming new members to the Episcopal Church.
He has served five dioceses (Guyana, Bahamas, Florida, Seychelles and East Carolina) including three provinces of the Anglican Communion (West Indies, The Episcopal Church and Indian Ocean). Prior to his call to be the Assistant Bishop of Alabama, he served as Bishop Assisting in the Diocese of East Carolina. Marray first episcopate was Bishop of the Anglican Diocese of Seychelles, Province of the Indian Ocean. He was elected to the episcopate in February 2005 while serving as Rector, St. Philip's Episcopal Church, Jacksonville, Florida, under The Right Rev. S. John Howard, Bishop of Florida.
Bishop Santosh holds a Diploma in Pastoral Studies and Bachelor of Arts in Theology (Magna Cum Laude) from Codrington Theological College and University of the West Indies, Barbados; Master of Sacred Theology in Christian Spirituality, General Theological Seminary, NY; Master of Law in Canon Law, University of Wales, UK; Doctor of Ministry, Colgate Rochester Divinity/Bexley Hall Episcopal Seminary, Rochester, NY. In 2008 he was awarded a Doctor of Divinity from Bexley Hall Seminary, Ohio, for work in church growth and renewal and involvement in the wider Anglican Communion
He and his wife, Nalini, have two children, Ingram and Veronica Amanda, daughter-in-law, Tenille and granddaughter Arianna Elizabeth Amanda. Nalini has over thirty-eight years in the teaching profession.