Here's a little biographical information on The Rev. Ben Alford, who will be our celebrant this Sunday, July 8.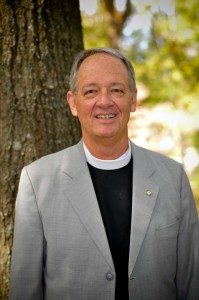 The Rev. Ben Alford is the Retired Rector of Trinity Episcopal Church in Wetumpka, Alabama. Ben was born in Albertville, Alabama, graduated from Albertville High School, The University of the South in Sewanee, Tennessee and Seabury-Western Theological Seminary in Evanston, Illinois.
Fr. Alford served in the Peace Corps, teaching and working at the National Forestry School in Jarabacoa, Dominican Republic. He taught Civil Engineering, Trigonometry, Soil Conservation and Forest Management. The project was a joint project of the United Nations Food and Agriculture Organization, the Dominican Government and the Peace Corps.
Before going to Seminary, Ben spent ten years working with The Boy Scouts of America as a Community Organizer and Field Director.
Ben has been married to Lynn Dugan Alford for 40 years. Ben and Lynn have one son, Seth who is a General Manager with Zoe's Kitchen Restaurants in Scottsdale, Arizona.
When not preaching and teaching, Ben enjoys gardening, golf, kayaking, reading and sitting and looking at the lake.
Ben and Lynn love on Lake Jordan in Titus, Alabama.