These are the notes of The Revd Arnold Bush in preparation for his homily at Episcopal Church of the Epiphany November 6, 2011. His texts were as follows:
Matthew 25:1-13
'Then the kingdom of heaven will be like this. Ten bridesmaids took their lamps and went to meet the bridegroom. Five of them were foolish, and five were wise. When the foolish took their lamps, they took no oil with them; but the wise took flasks of oil with their lamps. As the bridegroom was delayed, all of them became drowsy and slept. But at midnight there was a shout, "Look! Here is the bridegroom! Come out to meet him." Then all those bridesmaids got up and trimmed their lamps. The foolish said to the wise, "Give us some of your oil, for our lamps are going out." But the wise replied, "No! there will not be enough for you and for us; you had better go to the dealers and buy some for yourselves." And while they went to buy it, the bridegroom came, and those who were ready went with him into the wedding banquet; and the door was shut. Later the other bridesmaids came also, saying, "Lord, lord, open to us." But he replied, "Truly I tell you, I do not know you." Keep awake therefore, for you know neither the day nor the hour.
1 Thess 4:13-18
But we do not want you to be uninformed, brothers and sisters, about those who have died, so that you may not grieve as others do who have no hope. For since we believe that Jesus died and rose again, even so, through Jesus, God will bring with him those who have died. For this we declare to you by the word of the Lord, that we who are alive, who are left until the coming of the Lord, will by no means precede those who have died. For the Lord himself, with a cry of command, with the archangel's call and with the sound of God's trumpet, will descend from heaven, and the dead in Christ will rise first. Then we who are alive, who are left, will be caught up in the clouds together with them to meet the Lord in the air; and so we will be with the Lord for ever. Therefore encourage one another with these words.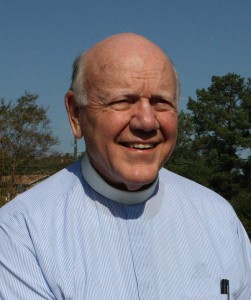 "Be Prepared… Keep awake therefore,
For you know neither the day nor the hour ,MT 25:13"
Sermon notes by the Rev. Arnold A. Bush, Supply Priest, Church of the Epiphany, Tallassee, AL, 11.7.2011, Proper 27A
Text: Mt 26:1-13; I Thess. 4:13-18 "The Parable of the Ten Bridesmaids"
I Introduction
If you have a morning meeting a Cracker Barrel at 7:00 am, do you arrive at 6:45 am? 7:05? Plan to leave you house at 6:50 am and arrive at 7:05? Then do you hope everyone else will be late? Ever driven a distance to a wedding and misjudged time to drive and arrive late? I recall being asked by the children of the deceased to officiate at a grave side burial in Jackson, MS. I went to the wrong cemetery on Capital Street. This parable is about showing up late.
When was the last time your electricity was off at night in your home? Were you prepared, flashlights, candles, and generator? Not prepared? Let's think about several ways we prepare for the unexpected:
a) Automobile… long trip to west coast
b) Hurricane…drinking water, cash from ATM, generator, flashlight batteries
c) Preparing for Sunday Worship? What do you do?
d) Tornadoes…in Lake Martin on SR 63; Selling Tornado rooms in homes or shelter under you concrete slab in your garage.
e) Prepare for your own death: At St. Jude's, Niceville, FL we had a 6 hour workshop on, "Putting your House in order"; "Planning for tomorrow": …Power of Attorney; Living Will; Paid up Life Insurance; Up to date Will (include your Church in your will); Charitable Trust; Trust funds, etc.
f) Some of us are wise in how we prepare, but some of us are not so wise…. Bible says foolish. I did not know my parents were going to die…or that I was going to die.
In chapter 24 and 25, Jesus is talking about the Last Things. Mt 24:42, Jesus says , "Therefore, keep watch, because you do not know on what day your Lord will come.". Then at the end of the parable, v. 13 Jesus says, "Keep awake…neb; Watch, therefore…rsv; So be on the alert..Phillips"
II Background on this Parable
• Jesus has just left the Temple Grounds, and sitting with his disciples on the Mount of Olives where the prophet Zachariah 14:1-21 looks forward when he will be recognized as the king over all the earth.
• There are two parables with the same theme: the wise and foolish servants and the wise and foolish maids. Wise preparers and foolish persons who do not prepare.
• The clue is the opening phrase: "The kingdom of heaven will be like this"… Then, Jesus tells this parable.
• In Biblical times there were three distinct public stages: the ENGAGEMENT; THE BETROTHAL, AND THE MARRIAGE. This story is the third stage where the bridegroom goes to the home of the bride to bring her to his home or place for the wedding. This was done with all participating in the village.
• The bridesmaids would wait along the road greeting him with a precession of light in the darkness. They had flask of oil or large torches. There was eager expectation… like the wedding guest waiting to see the bride appear in public.
• The groom is delayed somehow, and all the bridesmaids have fallen asleep. They are burning their lamps but half of the of the maids are unprepared by running out of oil, so they leave so they may get more oil in their lamps.
• They ask to borrow some oil from the wise maids. They refuse so the foolish go off to purchase from an oil dealer.
• The procession and banquet begins without the foolish present, then the foolish maids go to the door. They are shut out of the wedding banquet. The maids plea recalls Jesus' warning that not everyone who cries, "Lord, Lord" will enter the kingdom of heaven. MT 7:21-23 a Gospel verse often used a weddings.
III Insights and Applications to our life
V.2"the foolish took no oil with them…the wise took flasks of oil"
Lack of preparation… I can borrow some…
Our preparation, endurance, perseverance, keeps a good supply of Holy Spirit Oil in our personality.
v.5 "The bridegroom is delayed…"all of them became drowsy and slept."
Implied? Christian communities waiting for the return of Jesus past 70 AD (the destruction of Jerusalem)
The need of Sabbath rest… our experience of Christ allows us to rest, to drift into sleep with peace in our souls.
Or do we sleep because of anxiety, fear, confusion?
v.6 "its midnight…Come out to meet him"
Highway sign: Jesus is coming… Are you ready? God is coming to us in Jesus, in our prayers, sacraments, in the interaction with others.
v.8,9 "Give us some of your oil….they replied, 'No! There will not be enough for you and for us… go to the dealers."
Not share? Grace and invitation is free for all, but we must appropriate this, accept the invitation…. Metaphor of the baton passing to the next in line.
Passing on a living faith in Christ is up to each autonomous individual. Using their volition of choosing, we are simply to accept the BATON OF GRACE. I embrace the Living Christ.
No matter how alive and vibrant a Christian Community where we are loved, forgive, affirmed each member must use their God given volition to receive Christ. God has no grandchildren. Each child of ours, each grandchild, every grandchild must make a personal choice to accept Jesus as they understand Him.
v.10 "While buying oil the bridegroom came and those who were ready (prepared) entered the wedding banquet and the door was shut."
As Christians we do not like the action in the parable of shutting the door. Maybe ultimately with God, there are some human beings with do not want to live with God as they understand Him.
V11 "Lord let us in, Lord, Lord, open to us…v,12 "he replied, "I do not know you."
This hard for us to accept, if we enter into the kingdom by grace. Some folks have made no preparation for entrance into his kingdom. God does not force you into heaven.
V. 13 " Keep awake therefore, for you know neither the day nor the hour when Son of Man will return.
The parables in this chapter of Matthew speak of the "last things", "final judgment"… Here is a metaphor I read this week. Going to heaven to live with Christ, is like going on a voyage on a large ship. Ourr Baptism and personal trust in Christ gives us a state room on the ship. Docking at the harbor is the Kingdom of Heaven. There is no doubt, there is certainty, and you will land in the Harbor…. Now we have to understand the ship will experience hurricanes, earthquakes, tsunamis, wars, wind storms, mechanical problems in the engines, BUT IT WILL LAND IN THE HARBOR.
The opening statements in this sermon dealt with all kinds of preparation… It is obvious the message of Matthew's message and Jesus' message is PREPAREDNESS.
Let us caution ourselves that this preparedness is not a PARANOID TYPE OF BEING PREPARED. As I listen to some interpretations of "Those left behind", "End of the world narratives"… that we are to live in mortal fear of the worst will happen. I believe Jesus calls us to live each day as if it is the last, not in fear or trepidation but in an animated hope for the continual coming of Christ into our lives.
We can be prepared spiritually to taking advantage of the opportunities we have today. We can have a Sabbath time with God throughout the week and week worships helps us overcome the crises in our everyday life.
Am I alert to Christ touching and feeding me daily, weekly, yearly?
How do we keep alert? The answer my friend is blown across the next verses in Ch. 25. The preparation tasks are welcoming the stranger, feeding the hungry, visiting the sick and those in prison (25:31-46) and making disciples in all the world (28:19-20). Love God with all our heart, mind, soul, and strength, and love our neighbor as ourselves.