These are the notes of The Revd Arnold Bush in preparation for his homily at Episcopal Church of the Epiphany October 30, 2011. His text was the reading for All Saints Day, Matthew 5:1-12.
Matthew 5:1-12
When Jesus saw the crowds, he went up the mountain; and after he sat down, his disciples came to him. Then he began to speak, and taught them, saying:

"Blessed are the poor in spirit, for theirs is the kingdom of heaven.
"Blessed are those who mourn, for they will be comforted.
"Blessed are the meek, for they will inherit the earth.
"Blessed are those who hunger and thirst for righteousness, for they will be filled.
"Blessed are the merciful, for they will receive mercy.
"Blessed are the pure in heart, for they will see God.
"Blessed are the peacemakers, for they will be called children of God.
"Blessed are those who are persecuted for righteousness' sake, for theirs is the kingdom of heaven.
"Blessed are you when people revile you and persecute you and utter all kinds of evil against you falsely on my account. Rejoice and be glad, for your reward is great in heaven, for in the same way they persecuted the prophets who were before you.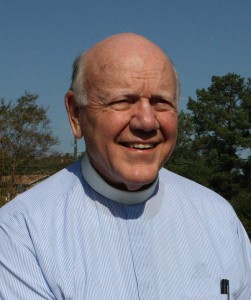 Be-Attitudes Improve a Saint
Three habits of highly effective Saints Christians
Sermon notes by the Rev. Arnold A. Bush, Epiphany Episcopal Tallassee, AL 10.30.11
Texts and Purpose: Matthew 5:1-5 To learn to adopt an attitude of sorrowfulness (awareness of our errors); meekness (humbleness); and being merciful. Three of the eight Beatitudes
I. Introduction: Someone said there are two kinds of people on earth? Those who (1) want to change, to grow and (2) and Second those who do not ever want to grow or change. I assume because you came to the Eucharist this morning you are open for change or improvement as a human being. Right? The sermon is about three of the eight attitudes where each one of can make improvements. Blessed is translated: spiritually happy, an heavenly attitude. These are not individuals but attitudes we are to manifest as follower of Jesus.
Attitudes where I need improvement
I. v.4 " Blessed are those who mourn (neb :sorrowful; an attitude that causes awareness of one's own errors ) for they will be comforted". Blessed are those whose attitude causes awareness of their own errors. Serendipity Bible commentary states to "mourn" means the ability to embrace the pain caused by my own sins or the sins of others.
In Dan MacDougald's Wisdom from the Aramaic used in Albany, GA, states we gain mental comfort as the brain functions to reveal our mistakes and our wrongs. EG: Story of the shot gun as a teenager in Laurel, MS. An attitude or mark of Christian maturity is the ability to recite a mistake, verbalize a mistake. There is a portion of the Alabama population who cannot admit their errors. Where do the live ? They are in our state and federal prisons and county jails. Maxwell Federal Prison (Eglin AFB in Niceville, FWB). One characteristic of the criminal mind is the inability to process the awareness of error or mistakes. Once in a group studying this Verse about AWARENESS OF ERROR, a physician made calls in the large metropolitan prison, noticed everyone had a story of "not guilty." The Birmingham News published a portrait of some 20 public officials who are serving time in federal or state prison.
One is the CEO of HealthSouth, who owes 2.3 billion dollars. Some famous persons who were oblivious to their errors were persons such as Hitler, Idi Amin, who murdered many in Uganda in the 1970's, Saddam Hussein, Castro, and last week the dictator or Libya and others.
In our stages in life, what can I do to become more aware of my errors and mistakes? As we celebrate All Saints, we express our thanks for those who have blessed our life and helped us in our Christian Journey. But we also want to reflect on how we can improve our WALK WITH CHRIST. What is the first step to develop an attitude of awareness of error? Blessed are those who mourn, those who are sorrowful for their sins. Those who are sensitive to how they have hurt others or do not live up to high Christian moral standards.
For me the key is embracing the Gospel of Grace. Experiencing Christ as a forgiving God in moments of self-examination. Receiving the Eucharist each Sunday. You are forgiven!!! A voice comes as you kneel at the rail. This embrace of grace changes the processes within our minds, enabling us to acknowledge our sinful errors increases. This is what I call the law of direct proportion: The more forgiving grace I receive this morning, then the more I can recite or acknowledge my error. The increased power of grace I receive in Eucharistic Worship means the more I can admit, acknowledge my error, sin, lack of a high moral standard.
This truth of acknowledging our faults is found in our Marriage Liturgy in one of the prayers for the newly married couple. "Give them grace, when they hurt each other, to recognize and acknowledge their fault, and to seek each other's forgiveness and yours." (BCP, 429; also Litany of Penitence, 268 )
How do we see this attitude manifest in our daily life? In a marriage or family setting, or work environment they are OBLIVIOUS TO ANY WRONGS. They have difficulty saying "I'm sorry."
I know a gentlemen and a few women, who spend a great deal of energy on always appearing "I have it all together" Their persona is "do not show your dirty laundry in public", I must cover up my errors.
This is a personal attitude that can be applied to our daily life:
EG. I recall playing sports in Laurel, MS at George S. Gardiner High School…Frank Bowers, John Christmas, Art Vantone, Joe Overcut "Practice makes perfect". Let's go through these drills to find our mistakes. Next Saturday the College Super Bowl is coming to Tuscaloosa …. Those highly paid coaches in Baton Rouge and Tuscaloosa are very busy this week spending hours eliminating errors and mistakes.
One question for evaluation of a business or organization is this:
"If I were to start over again?" "What would I do different?" "What have I neglected, what mistakes have I made?"
Let me give you a biblical metaphor, In the parable (LK 15), the Younger Son goes to his father seeking his inheritance. Then the Father gives him a large sum of money. The younger son goes away lives with harlots, throws away this money (stayed too long in the French Quarters in New Orleans and the MS Coast casinos). The verse in the parable states: "He came to his senses", he said, "How many of my father's servants have food to spare, and here I am starving to death!" He begin to rehearse his speech to his father: Going back home, " Father I have sinned against heaven and against you. I am no longer worthy to be called you son, make me like one of your hired men." "So he went he got up and went to his father".
"He came to his senses, KJV, he came to himself." He became aware of his error, able to say, I am sorry, forgive me. It was the waiting father who ran toward him, embraced him with open arms and said "kill the fatted calf, place a ring on his finger… you are my son." Here we are a Sunday Eucharist, Jesus is here with open arms, embracing us. We can confess our sins, errors, mistakes; We do not have to use energy to create a persona that says we must have it all together. We do not have to be defensive, resistant to persons who assist us in seeing our sins. We can acknowledge our sins, weaknesses, mistakes because Jesus is placing his forgiving arms around us.. Taking in His Abundant Grace.
Now to the Next Beatitude: Blessed are the meek.
II. v.5 "Blessed are the meek,for they shall inherit the earth." (neb: a gentle spirit; humility; Phillips:( those who claim nothing) for they will inherit the earth. ( Aramaic: "gain the earth" is Nitrous an earned gain, not an inherited gain.; neb "they shall have the earth for their possession.")
"Humility" is the attitude that permits your mind to receive and understand the needs of others. It is a mechanism within the human brain which acknowledges and perceive the needs of others. When a person is lacking in humility they have blinders that keep them from perceiving the needs of others.
This week…..A parishioner, needed to remove furniture in their apartment last Tuesday… Habitat group of four said they will go.
Without this attitude within each of us, then we cannot hear the needs of those around us. They have a blinder in their eyes that prevents them from seeing practical needs of individuals. They have a emotional hearing problem and cannot here the CRY FOR HELP. EG Safety Engineer in a factory: The Safety Engineer or Risk Management comes into the factory, business, sees unsafe procedures or behaviors that tend to cause injury. For instance, Hyundai Auto Plant south of Montgomery, I-65 will have the goggles of meekness, humility to see the needs of their potential car owners.
This week as you interact with colleagues and friends this week, ask the Lord to help you adopt this attitude of humility. Hearing and seeing the cry for help, the pain of loneliness, the worry and bitterness in their grief. At a lecture last Tuesday at St. Luke's, Birmingham, a UAB doctor lectured on diagnosis and treatment the Alzheimer's Disease. He spoke with compassion on the pain the caregivers and spouses go through with Alzheimer's….Need for respite and understanding from the adult children and spouse.
The reward of this beatitude is earthly achievement. E.G. A sales persons perceiving the needs of their customers.
III. v. "Blessed are the merciful for they will receive mercy (Message: You are blessed when you care. At the moment of being 'care-full,' you fine yourselves cared for.; Aramaic: those whose love without conditions; they will therefore receive unconditional love.)
Blessed are the merciful for they will receive mercy. Blessed are those who care….for they shall receive care. Blessed are those who express and share unconditional love, …. Here is a axiom in the 9th chapter of Paul's letter to the Church in Corinth. Paul writes: "Remember this whoever sows sparingly will also reap sparingly, and whoever sows generously will also reap generously." As we sow, so shall we reap!!!
The church is in the business of forming persons into the image and character of Christ. We are here in Eucharistic worship, we offer our prayers each day, we submit ourselves to Christ, we interact with other Christians, WHY ? So we can be filled with unconditional love. You and I are here so we can be more loving tomorrow and this week with all the folks we will be interacting with in Central Alabama..
In the Episcopal Church we ask every member to make a pledge. We invite all to give a systematic financial gift to the Work of Christ through the Epiphany. Everyone wants the abundance of God blessings to flow toward us. Right? As we sow, so shall we reap!! As we give in financial amounts, so we will receive the abundance of God's blessings. Suppose we refuse to give a financial gift. Refusal to give is like telling God the following:
(1) To stop giving me the air I breathe,
(2) Stop giving me the ability and skills of earn a living.
(3) Stop allowing me to enjoy all the relationships in my life. Stop… Stop… As a person sows, (gives, loves), so will a person reap (receive, be loved.)
Marriage counselors and therapist use the metaphor of the "Love Tank". Persons in marital crisis say their "Love Tank" is empty. Why brother, sister, Is anything flowing out of your "Love Tank". As the love flows out so the tank is refilled.
A Quick review about three ways we can improve our Christian life.
1. Digesting the forgiveness of Jesus in Eucharistic fellowship and prayer this morning will increase your ability to admit your wrongdoings and sins. You will be a happier person to live and work with.
2. Humility is an attitude of becoming aware of the needs and wants of others… this helps you gain achievements over the earthly riches.
3. As you sow merch, so shall you reap mercy!!! As you lovingly give to God's work so shall you receive abundance of His blessings.
Let us Prayer:
All Saints Prayer…page 245
Give us grace so to follow your blessed saints in all virtuous and godly living… awareness of our errors and sins…our adopting humility and meekness…. Walking with mercy. Amen.